Entegris Corporate Social Responsibility and Sustainability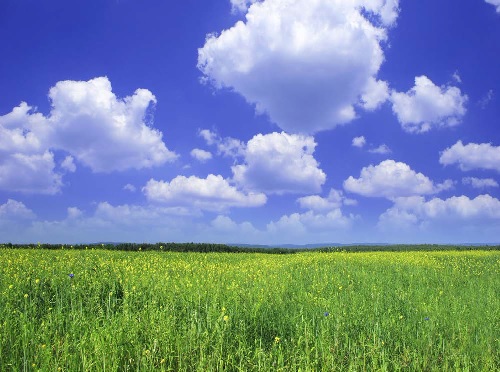 Entegris will conduct its business so that our worldwide operations and products do not harm the environment or endanger the health and safety of our employees, customers or the public. We provide our employees and the public with information regarding the safety, health and environmental performance of our products and facilities.
Entegris supports the Responsible Business Alliance (RBA) Code of Conduct and has adopted a Social Accountability Management System to drive conformance with the requirements.
Our Approach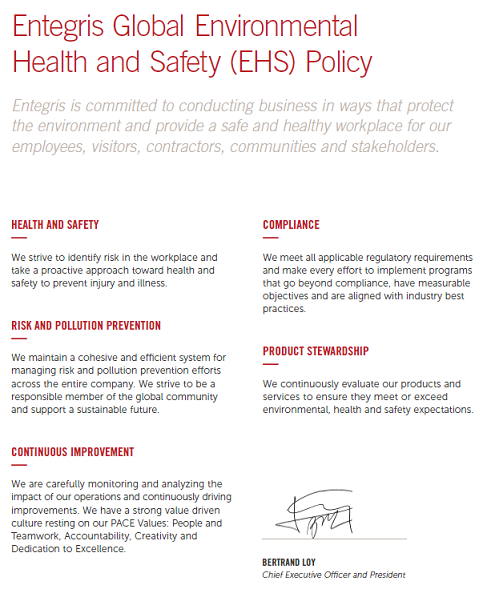 Entegris global EHS policy and Business Code of Conduct
Product Stewardship Team managing product compliance
Alignment with industry standards
Participant in Responsible Business Alliance
Member SEMI Global Care
EHS Management system certified to ISO 14001 and 45001
Supply Chain Management for Conformance
New Product Design Standards and Controls
Product Stewardship
The Product Stewardship Program works to ensure Entegris products are manufactured in support of applicable environmental regulations, globally recognized requirements for ethical business practices, and sustainable practices in support of:
Responsible Business Alliance Code of Conduct (formerly known as EICC)
ISO 14001:2015
ISO 45001:2018
Entegris has a team of dedicated professionals that:
Track regulatory requirements, industry standards and emerging best practices.
Evaluate the application of global regulations and industry standard to Entegris products and drive conformance.
Use industry best practice software to track requirements by commodity
Provide responses to Customers/stakeholders regarding Entegris Environmental, Health and Safety performance.
Communicate and provide awareness to suppliers and manufacturing partners on the various regulations and industry standards that Entegris requires.
Proper materials registration within emerging EHS global REACH rules.
Supplier Communication and Awareness
Suppliers will receive communication on the Entegris Product Stewardship Requirements in the following ways:
Supplier Qualification: the process used to qualify a new supplier of materials for Entegris works to assess if the Supplier has an EHS Management system certified to ISO standards, Supports the Responsible Business Alliance and has provided all the required materials compliance data. See Entegris Supplier Quality Management (SQM) -New Supplier Selection and Qualification #08125 for details on this process.
Contracts: As new contracts are negotiated, or as existing contracts renew, Materials Compliance, Conflict Minerals and EHS performance requirements are included.
Purchase Orders: All new purchase orders include materials compliance requirements.
Supplier Expectations Packet SOP 08126 will be provided to suppliers as they are qualified as an Entegris Supplier and then updated per the program in the following years.
Supplier Assessment: Suppliers will be assessed by the Supplier Quality process outlined in Entegris Supplier Quality Management System (ESQMS) -Supplier Quality Assessment & Improvement (EQOS HA) #08128 using the EQOS HA -Entegris Quality Operating System Health Assessment #08133 Assessment Form.
Supplier Engagement: We shall provide education on the applicable materials regulations via the Assent resource center which includes training as well as training courses, email and telephone support via Assent Compliance services. Training and education for the completion of the CMRT form is also provided via the CFSI site and can be found at: http://www.responsiblemineralsinitiative.org/training-and-resources
Human Rights and Humane Treatment
Entegris has Policies and Procedures in place to assure: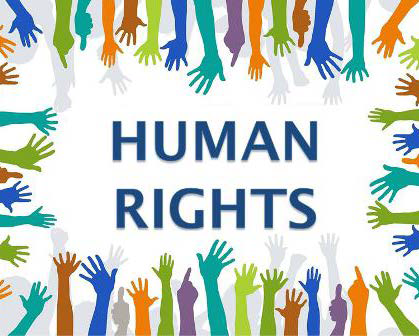 Entegris Human Rights Policy
No levies or placement fees charged to workers even if allowed by law. No fees to workers as defined by the Responsible Business Alliance. Should fees be identified they will be repaid to the worker.
No worker debt related to obtaining or keeping job.
Comprehensive employment contracts with no substantial changes to the contracts or work conditions.
No holding of worker's original identification and the provision of secure personal storage.
Resignation is voluntary with required notice no more than 1 month and as applicable, a notice penalty will be less than <60% of one month wage.
Workers have freedom of movement, religion and speech.
Monitor labor agents working on behalf of Entegris.
Design for the Environment
Entegris new product development process takes into account DfE principles to ensure new designs meet customer and governmental material content restrictions that include, but may not be limited to the following: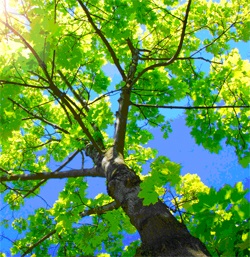 European Directive 2011/65/EU (RoHS2)
European Directive 2002/95/EC (RoHS)
European Directive 1907/2006/EC (REACH) and Annex XVII of REACH and of substances identified as SVHC (Substances of Very High Concern) in the Candidate list for Annex XIV of REACH
European Directive 2006/122/EG (Perfluoroctansulfonate, PFOS)
European Directive 2009/251/EC (Dimethyl Fumarate, DMF)
European Directive 94/62/EC (Packaging and packaging waste)
Conflict Minerals per the Dodd-Frank Wall Street Reform and Consumer Protection Act H.R. 4173 –Section 1502 requiring the disclosure of products that contain designated minerals sourced from the Democratic Republic of Congo (DRC) and adjoining countries
Administration on the Control of Pollution Caused by Electronic Information Products (China RoHS)
Halogens Chlorine, Bromine and Fluorine restriction below established limits as defined by the IEC 61249-2-21, JPCA-ES-01-2003 & IPC-4101B
Sony Technical Standards SS-00259 "Management Regulations for the Environment-related Substances to be controlled. "